"The Art Spirit" Book
Robert Henri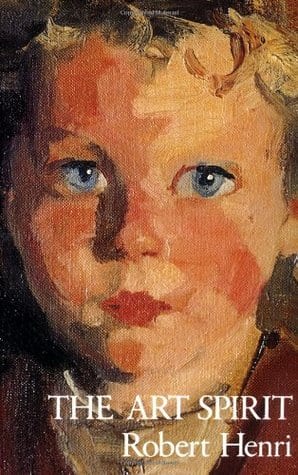 What is in a book? What can be finer than reading a deep, marvelous, enthralling book? This book is so magnificent that do I dare compare its influence on artists as the Bible's influence on believers? Maybe, it is not quite as important as that, but close. And like the Bible, I can flip to any page of it and be inspired by a truth. In fact, when I was first serious about painting, after my morning coffee and devotional, I would open this book to any page hoping for some insight.
What is this book? It is entitled, "The Art Spirit," a compilation of critiques to his art students by Robert Henri (1865 -1929). Robert Henri was an influential teacher and artist who, according to Wikipedia, studied at the Pennsylvania Academy of Fine Arts and taught at the Art Students League in New York City. I have seen many of his paintings in major museums, and in my very humble opinion, his teachings are much more beautiful than his paintings.
For those artists not familiar with "The Art Spirit," I recommend purchasing it. The paperback version is inexpensive (around $20.00), and makes a great gift for fellow artists who do not own a copy.
I use "The Art Spirit" as a reference whenever I have a question about painting. It has a useful index in the back. It is especially helpful to teachers. I have frequently used Henri's lessons in my classes and workshops. For example, on page 34, he suggests: "You start by making a very simple drawing on your canvas, paying particular attention to the exact location, size and shape of all the masses, the hair, collar and shirt, the tie, his coat and the background. In this I have named seven areas, and together they cover the total of the canvas…You work at these seven tones on your palette until you are quite sure you have made mixtures that closely approximate in color and value the (1)light of the face, (2)shade of the face, (3) hair, (4)collar and shirt, (5) tie, (6) coat,(7)background…your palette represents but seven notes, each to represent flatly its corresponding area."
Henri discusses brush strokes. It takes him seven pages! Every point he makes about brushstrokes is worthwhile.
On the subject of backgrounds:

"With the model before it, the background is transformed. Before the model takes his place, the wall is an identity in itself and is forward. When the model takes his place, the background recedes and exists only as a compliment [sic] to the figure. Do not look at the background to know its colors or its shapes. Look at the model. What you will see of the background while looking at the model will be the background of that model. All the beauty that can exist in the background rests in its relation to the figure. It is by looking at the figure that you can see this relation. With your eyes well on the model, the value tones, shapes which you apprehend in the background are those only which are complementary to the figure."
The following quote is becoming a favorite of mine: "Age need not destroy beauty. There are people who grow more beautiful as they grow older. If age means to them an expansion and development of character [sic] this new mental and spiritual state will have its effect on the physical. A face which in the early days was merely pretty or even dull, will be transformed. The eyes will attain mysterious depths, there will be a gesture in the whole face of greater sensibility and all will appear coordinate." As a baby boomer, I will be meditating on that thought!
I highly recommend that you read this book and include it in your art library.
Artwork by Susan Hotard
Sources:
The Art Spirit, Robert Henri
Wikipedia